Cleanroom Equipment Tables – Mobile
Our heavy duty mobile cleanroom equipment tables provide an outstanding option over catalog available tables.  Common uses for these tables are for water baths, incubators, balance scales, bioreactors, and other heavier equipment.  These mobile tables allow for movement during area cleaning eliminating operators from picking up tables during cleaning. Typical catalog tables are manufactured from either the wrong type stainless steel, have zinc plated steel parts, partially welded frames, open frame holes, and are made using inferior manufacturing techniques.  This makes these tables near impossible to sanitize clean and as a result allowing for the introduction of rust and undesirable microbes in your cleanroom.  Our cleanroom tables are built with the proper materials and techniques for use in sterile manufacturing facilities where sporicidal disinfectants are commonly used and are designed for cleanroom use. 
Our cleanroom heavy duty mobile cleanroom tables offer:
Specifically built to support your equipment.
316L #4 finish stainless steel construction.  Options in 304 stainless are available
Heavy duty frames – thicker wall tubing with additional reinforcement members
Heavy Duty Tops and/or shelves
Typically these tables are offered with counterweighted frames to lower center of mass of loaded table assembly to assist in tip over prevention
Solid TIG welded frames.  Frames are not stitch welded or partially welded 
TIG welded construction. Non welded seams are silicone caulked
No sharp edges on exposed top or shelf edges
No zinc plated or steel components
All exposed surfaces are passivated
Leveling feet and/or casters.  Leveling feet are for in use depending on equipment.  Leveling feet can be raised to allow table to then be moved.
Stainless steel casters. Swivel housings have raceway seals.  Polyurethane wheels with sealed stainless bearings in wheel.  Available with and without rear pedal style brakes.
Options:
Custom top sizes – top width, length, and height

Number or shelves

Standing or Seated access configurations
Various top styles – Flat top, Drip edge, raised flange, etc
Various shelf styles – Flat top, Drip edge, raised flange, etc
Custom top and shelf spacing 
Drawer options
Counterweighting
Linking systems for linking tables into larger or longer tables
Caster and or leveling feet configurations –  All swivel or two swivel and two rigid.  Options using plate casters are also available.  With or without leveling feet.
Electrical Chases for pump/equipment power. Chases are not UL listed but use UL listed components. Chases provided with 20Amp 125V GFCI circuit.
Other custom options are available
Note: White tape shown on wheels in many pictures is for wheel protection during manufacture and shipping only.  Tape is to removed before use.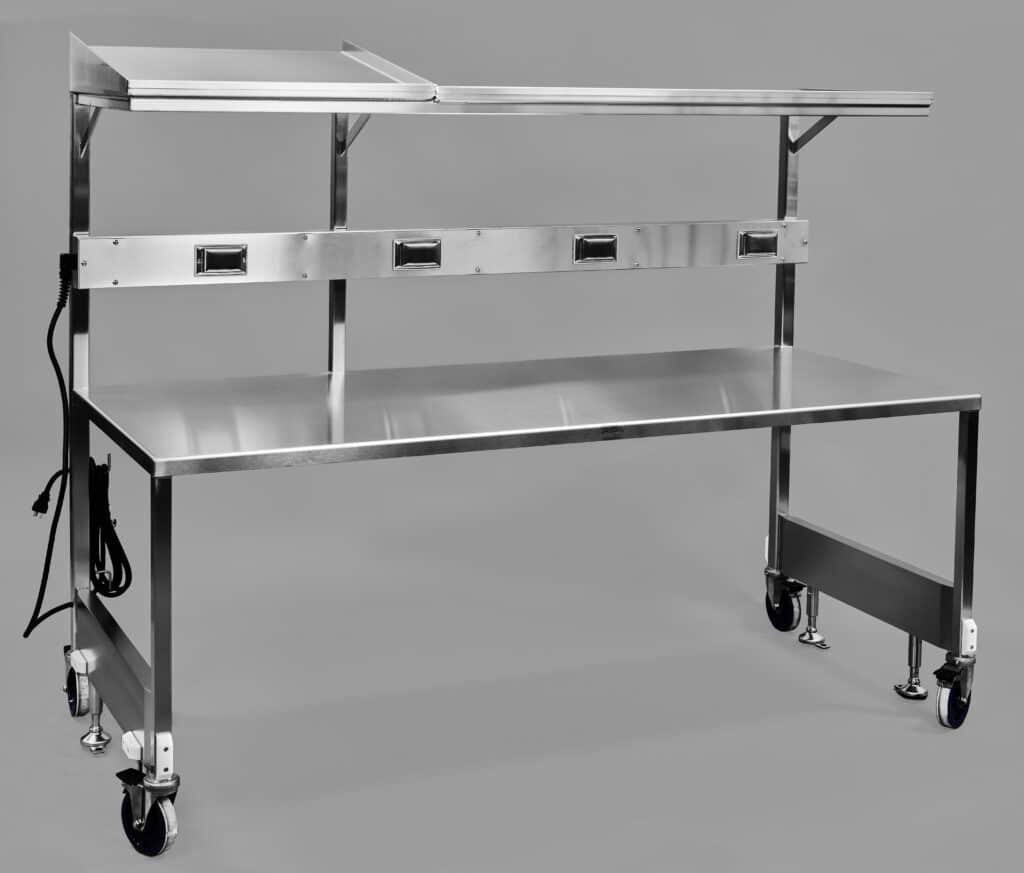 All units are built to order.
Please contact for us for questions, sizes, and options so we can provide you with the proper quotes for your project needs.
contact: sales@carolinamechanical.com
call: 919-477-7100 ext. 102