Cleanroom Fire Extinguisher Cabinet
Carolina Mechanical offers custom solutions for your fire extinguishers. Our cabinets are built with the proper materials and techniques for use in sterile manufacturing facilities where sporicidal disinfectants are commonly used.  
Our cleanroom fire extinguisher cabinet can offer:
 Stainless Steel Construction – typically type 316L. Options in 304 stainless are available
 Heavy Duty construction yields stable and safe performance
 Wall Mountable
 Polycarbonate door 
 Sloped Top for cleanability option
 5s laser etching identification
 Sealed magnetic door latching.  No exposed steel parts to rust.
 All hardware is stainless steel and/or plastic
 TIG welded construction with non welded seams silicone caulked
 All exposed surfaces passivated
  Other custom options available 
Note: White tape shown on wheels in many pictures is for wheel protection during manufacture and shipping only.  Tape is to removed before use.MO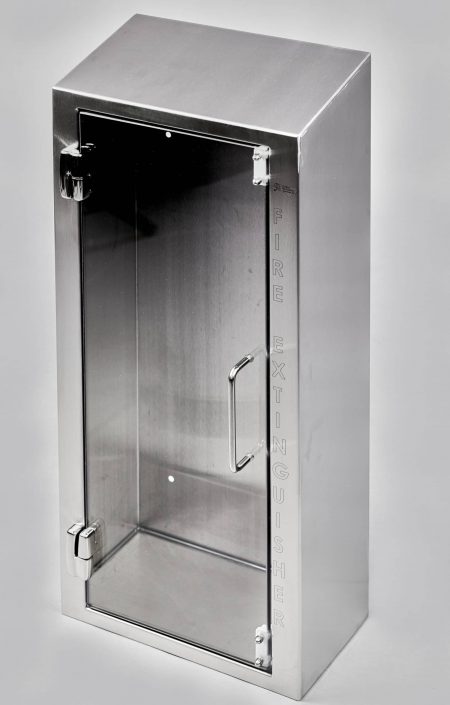 All units are built to order. 

Please contact for us for questions, sizes, and options so we can provide you with the proper quotes for your project needs
contact: sales@carolinamechanical.com 
call: 919-477-7100 ext. 102